November 30, 2020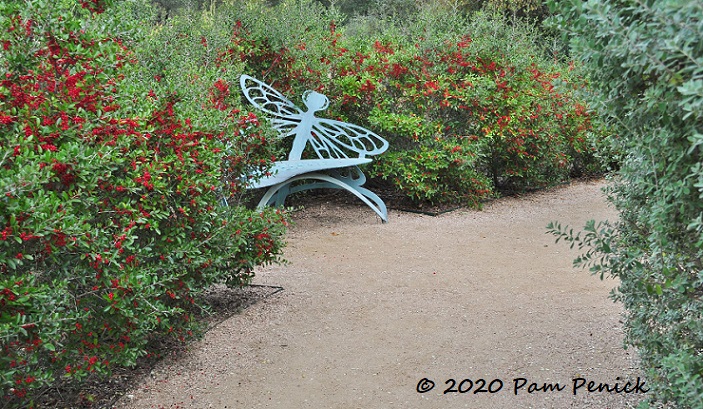 I want to share a little more Wildflower Center inspiration, this time from the maze in the Family Garden. Traditionally mazes are defined by clipped boxwood or yew hedges that grow at least to head-height — about 6 feet tall. Here at Austin's native-plant botanical garden, the maze is hedged with several different native Texas species or cultivars.
Bright with red berries, yaupon holly (Ilex vomitoria), pictured above, makes a colorful, bushy hedge along an outer path. Since yaupon holly generally grows into an upright, multi-trunked small tree, these must have been pruned over time to create a thicker, more bushy look. I'd love to hear from someone at the Wildflower Center about how they prune them.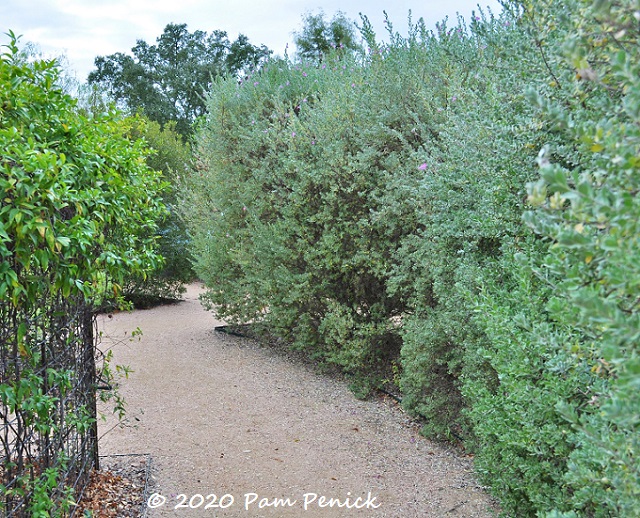 Cenizo (Leucophyllum frutescens) is a straightforward choice for a sunny, dry location. The standard species can be airy, especially at the lower branches, so I'd guess this is a bushier cultivar. You can see it's been pruned to create a hedge, although not severely sheared. The solid effect is well done.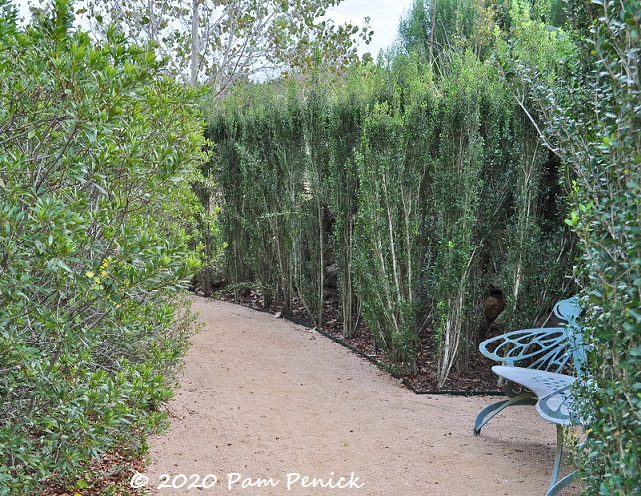 A more unusual but effective choice is 'Will Fleming' yaupon holly, a fastigiate, non-berrying cultivar of the native yaupon holly. Because its form is columnar, plants must be closely spaced to create a solid screen. 'Will Fleming' also tends to flop, so regular trimming or tying is required.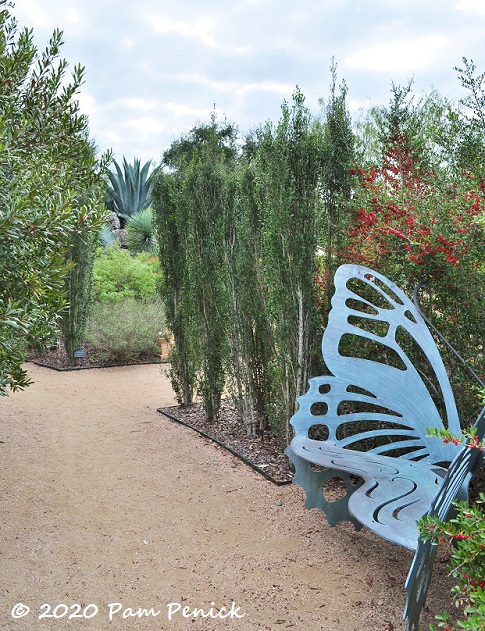 Here's another section of the 'Will Fleming' yaupon hedge, transitioning to red-berried yaupon holly behind a butterfly bench. Across the path you can see a bit of a Southern wax myrtle (Morella cerifera) hedge. Native to East Texas, Southern wax myrtle tends to be thirsty here in Austin. But for moist low areas or rain gardens it might make a good choice.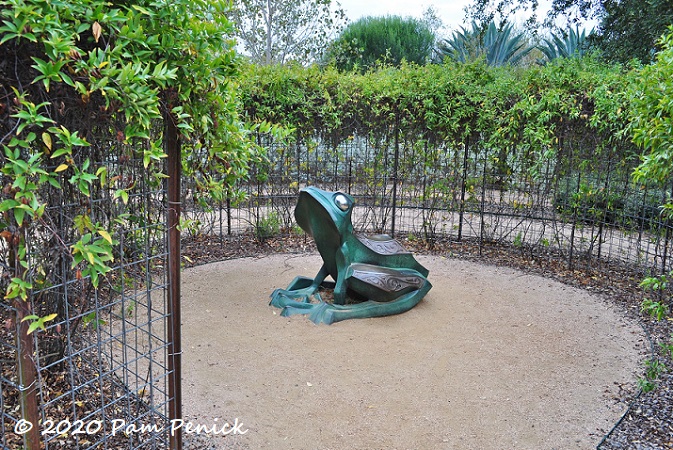 In the center of the maze, where a frog sculpture greets successful maze runners, there's a surprising choice for the inner hedge: a vine! Carolina jessamine (Gelsemium sempervirens) clambers up a curved wire trellis to make an evergreen screen mostly along the top; the lower half is leggy and see-through, as vines typically grow, and not effective at fully screening the space. But a vine trellis is a creative way to make a "hedge," and Carolina jessamine offers bright-yellow color and sweet fragrance in early spring when it flowers.
What other native plants make good hedges, either here in central Texas or wherever you live?
I welcome your comments; please scroll to the end of this post to leave one. If you're reading this in a subscription email, click here to visit Digging and find the comment box at the end of each post.
_______________________
Digging Deeper: News and Upcoming Events
Join the mailing list for Garden Spark! Hungry to learn about garden design from the experts? I'm hosting a series of talks by inspiring garden designers, landscape architects, and authors a few times a year. Held in Austin, the talks are limited-attendance events that sell out quickly, so join the Garden Spark email list to be notified in advance. Simply click this link and ask to be added.
All material © 2020 by Pam Penick for Digging. Unauthorized reproduction prohibited.
The post Grow a hedge using native Texas plants appeared first on Digging.